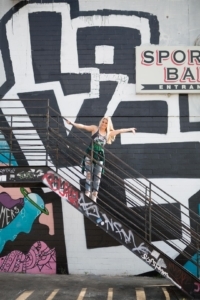 A star athlete since the age of five when she struggled to pop a wheelie showing off for a boy, Jayme has always had a knack for adventure and sports. Playing them, watching them, bossing other people around on how to play them – the whole nine. After working in professional sports in PR and marketing for 5 long years, Jayme was finally escorted out of the industry for what some would call non – PC behavior.
Since her time serving in a MLB Front Office, Jayme spent three years doing sales and marketing in healthcare and as luck would have it, began her freelance writing career back in 2010. She had no idea what was in store for her (spoiler alert: late payments, Obamacare, extended "vacations" and much more).
Originally from Virginia, Jayme relocated to Houston in 2006 and has since been making a name for herself. She is in her purest form, a conundrum.  She is delightfully unrefined. She is a lover of sports & words.  She is a serial do-gooder with a limited filter.
Jayme spends her days as a freelance writer focusing her time on sports, travel and fitness and has the unique ability to turn the most mundane of stories into a sexy art form with nothing more than words and a little bit of inaccurate punctuation.
She is a fan of all sports, but mainly a fanatical Eagles fan thanks to a starter jacket. A few years ago she fell back in love with the Houston Astros, and with or without LeBron, she is a Miami Heat fan and doesn't care who talks smack to her on Twitter because of it.
The Blonde Side was named CBS Houston's Most Valuable Sport's Blogger 2011, which is pretty good stuff, along with being named a Women's Health Action Hero since the inception six years in a row. She has written for Women's Health Magazine, Thrillist, CBS, Huffington Post, Elite Daily, ESPN, espnW, SportsonEarth and various other local and national publications over the years.
Jayme also had a brief television role (scary, yes) with FOX26 Houston, Sports Uncensored, where she focused on the good, the bad and the extremely ugly parts of Houston sports.
In 2013, Jayme took a brief hiatus from The Blonde Side to write the self-deprecating memoir she has been living out loud since birth. Those four months living like a beach-bum gypsy on the North Shore of O'ahu were the best months of her life, really clearing out the cobwebs and refocusing her efforts on the things that matter most: family and sports. (Note, she's still looking for the perfect publisher who won't try to cut down on the foul language and embarrassing situations noted on each and every page.)
Currently, Jayme is still freelancing in the sports + travel + fitness worlds, but also works with corporate clients on varying levels (think: ghost blogger, social media manager, brand ambassador, internal communications, blogging, and others). Jayme also co-wrote a children's book with former NFL Player Wade Smith and is planning to write others.
About The Blonde Side: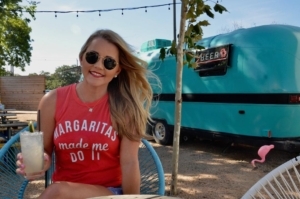 The Blonde Side is a sports column written by an overly opinionated blonde whose hair color may or may not be naturally blonde (thanks to Tease!). The column covers all things sports, travel and fitness and often adds a unique element to attract even the most faint of sport's fans or wanderlust spirits.
Founded in 2010, The Blonde Side was not created to join the masses of other prolific sport's writers and offer opinions on the same tried and true stories that already over-saturate the market. Nor was it meant to throw a hat into the already saturated market of simply regurgitated sports news and stats that can be simultaneously heard across all modern mediums. ESPN has this market covered.
The goal of The Blonde Side is to make regular appearances on a few reputable websites and magazines. If you have an idea or would like to hire The Blonde Side to write for one of your publications (note, size doesn't always matter), send an email to jayme@theblondeside.com to work out some of the nitty gritty details, which really aren't so nitty gritty after all.
FREELANCE + SPORTS + TRAVEL + FITNESS
COPYRIGHT 2018, THE BLONDE SIDE