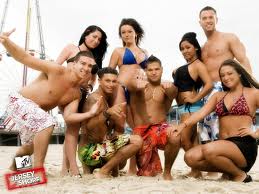 The NFL has been a staple in my life longer than My Little Ponies. Seriously. And for better or worse I tend to dwell on comparing people. I've been known to compare myself to my boyfriend's exes a time or two, and it's not a pretty site. For anyone. I'm also a big fan of train wrecks. Especially those involving Ed Hardy and other tight glittered dragon ensembles in the form of a t-shirt.
And so begins my eloquent segue comparing today's NFL Quarterbacks to the crusty cast of MTV's Jersey Shore (for fun, and because of my extreme dislike for the Dallas Cowboys, I've also made a Tony Romo parallel for each):
Pauly D. – The DJ infinitely known for his "blow out" and mass amounts of gel products. When you think of hair in the NFL, two guys should come to mind: head and shoulders spokesman Troy Polamalu of the Steelers and Patriots Quarterback, Tom Brady. Pauly D. is about as non-controversial as you can get in the shore house. He seems to be that guy everyone likes – even stalks. Tom Brady fits that to a t. He's the ultra cool guy on the field, good passer rating (111.00 last season), great hair, and a smoking hot wife. Most people are fans of Pauly D. and Tom Brady – or at least wish they were friends with them.
Pauly D. has a tanning bed in his house. That he brags about. Talk about the douchebag meter running at ultra high levels. "Douchebag meter running at ultra high levels" should be the urban dictionary definition of Tony Romo.
Ronnie – By far the biggest dude in the shore house. Complete with a raging temper and personality strongly resembling that of Big Ben. Ronnie's the kind of guy that when SamRon is on the brink of disaster, you better back away. He goes ape-ship and hates being told no by his girlfriend Sammi. Sources say he once even locked her in the bathroom while Vinny stood guard outside. Sound familiar?
Ronnie has been known to wear an aggressively gay looking fedora from time to time. Romo wears one every weekend.
Deena – The newcomer to the house in Season 3, Deena, takes the place of annoying mouthpiece Angelina. I think I speak for all of America when questioning why Deena is on the show in the first place? What does she bring to the table? Oh, that's right – nothing. Which draws an easy parallel to Matt Leinart – the breakout star from USC still trying to prove his worth in the NFL. Poor Deena is of the false mentality that she's "gorgeous" and "beautifully beautiful". Leinart has spent 6 seasons trying to prove he deserves a spot on the grassy knoll whereas Deena the meatball has struggled every Thursday night for 3 months. My money is on Deena. A final note of contention – Deena and her BFF Snooki really annoy me, just like Leinart and his BFF, former 98 degrees lead man, Nick Lachey. It just makes me feel dirty.
The little meatball is still trying to show her worth in the Jersey Shore house. Tony Romo battles this every postseason.
(Check out Gawker's awesomely embarrassing screenshots of Deena's MySpace page)
Vinny – Like the loyal, sweet mama's boy that he is, my pick for Vinny is none other than my favorite, Donovan McNabb. Aside from co-starring in Campbell's Chunky Soup commercials along side Mama McNabb, Donovan is just a stand up guy (and if one were to exist in Seaside Heights, something tells me it'd be Vinny). Throughout the show, especially the first season, Vinny proves his loyalty to the other guys time and time again. He brings home grenades fulfilling his duties as a wingman and has even let Mike rob a girl right out of his bed for his own use. He tries to avoid drama at all costs and always has his boy's backs. Sound familiar from back when T.O. was talking smack about his then QB? McNabb just took it and kept throwing passes his way in the end zone. Coach Shanahan had the audacity to publicly call McNabb fat and lazy, but he quietly took the blunders along with his place on the bench.
Vinny can't seem to finish the job in the bedroom and Romo can't seem to finish the job in the playoffs.
Angelina – The annoying girl of the house (if you had to pick just one). After one episode, the Staten Island Italian had already overstayed her welcome. She did her part and contributed to quite a few catfights and dramatic incidents, but there came a time when it was clear she needed to go. I can't help but think that just like Angelina, Brett Favre overstayed his welcome a little too long. He was asking for more money than he deserved, he was back and forth (do I want to retire? / do I want to leave the Jersey Shore house? / I left the Jersey Shore house, do I want to come back? / I made a public announcement to retire, should I come back?), and prohibiting other breakout stars from progressing forward (hello Aaron Rodgers!).
Fans seemed to have enjoyed Deena in the house more than Angelina. Can the same be said for Kitna's performance after Romo's injury?
Sammi – Poor Sammi "the sweetheart" has been portrayed as an emotional mess since day one. Her love affair with Ronnie has not been the perfect paved road to love, but it sure as hell has been an entertaining one. I can't think of a more emotionally unstable person in the pocket than Vince Young. After watching VY storm off the field in a moment of dramatic sized meltdowns, Sammi followed suit after suffering her breaking point with Ron. Season 1 showed Sammi as a fan favorite. The sweet, innocent girl from Hazlet, NJ showed a lot of promise right out of the gate. A lot like Vince Young back in his burnt orange days. The couple calls their countless breakups simple "misunderstandings", which sounds a lot like Jeff Fisher. I guess we always make excuses for our damaged and battered loved ones.
Sammi has become hated by meatheads across the country by proxy. The same can be said for Romo thanks to that star on his helmet.
JWOWW (Jenni) – Admittedly so, this was a tough comparison. After a lot of thought and a few shots of whiskey, I came to this – Philip Rivers. The man is famous for talking smack – either from the sideline or just as the game ends. What kind of person throws up a middle finger and tries to act hardcore hoping no one is afraid to step up to them? Thinking they can play this faux badass role and people are just going to take it? Maybe Jay Cutler never found the gonads to approach Rivers after this trash talking session, but you can't help but wonder what would have happened if Cutler retaliated? Jersey Shore fans have witnessed countless episodes of JWOWW's scare tactics. She's the big bitch in town and don't you dare mess with her has been her message. She even throws in a bit of Ebonics and assumes everyone will run for the hills. Except when Sammi finally stepped up proving that underneath all that silicone, JWOWW can't back up her bark. Cutler (and anyone else out there holding back on Rivers), here's your chance. If Sammi can do it, so can you.
Again with the lack of performance when it really matters. Tony meet the playoffs.
Snooki – Snooki finds herself falling in and out of love about as quickly and often as Alex Smith finds himself in and out of the starting lineup. Both characters (yes, characters) lack substance making it reasonably clear why these parts of their lives don't seem to remain intact.
The girl is awkward when it comes to love. She falls in love with her beau's cousin and hooks up with her beau's cousin's best friend the next night. Romo proposed to ex girlfriend's (Carrie Underwood) ex-boyfriend's (Chase Crawford) sister (Candice Crawford). Snooki and Romo – keeping it in the family.
Mike "The Situation" – How Mike Sorrentino made such a name for himself is proof the anti-Christ is living somewhere among us. The guy has a false sense of himself and an unbearable ego, a lot like Jay Cutler. Nice bodies, maybe. Minimal talent, debatable. The ability to make their own fans hate them, yes indeed. Both Sorrentino and Cutler have had their manhood, guts and courage called into question. With Cutler's salary and acquisition requirements, the Bears had to sacrifice to get him. With a 41-38-career record it makes you wonder if Cutler was really worth it all. It also makes you wonder how on earth he ended up with that ego of his. Surely it can't have anything to do with dating Kristin Cavallari, another mediocre "celeb". I'd like to think most of us would agree that a nice six-pack and an unfortunate bout on Dancing with the Stars isn't enough to make Sorrentino's ego go into overdrive. As C+C Music Factory would say, things that make you go hmmm.
Against all odds and reasoning, Mike and Tony lead their prospective packs, leading one to believe that there are in fact lemmings in this world that'll follow just about anyone.
http://theblondeside.com/wp-content/uploads/2011/04/index.jpg
194
259
Jayme
http://theblondeside.com/wp-content/uploads/2018/06/1526998321020-300x192.png
Jayme
2011-04-01 12:33:44
2013-09-11 12:00:01
NFL QB's Parallel To The Jersey Shore